Samantha Zarling, PA-C
Physician Assistant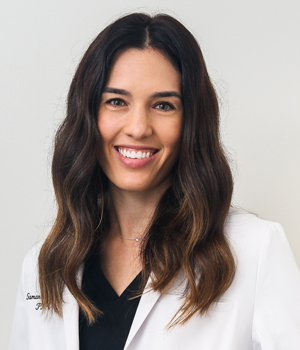 Samantha Zarling is a NCCPA nationally board certified and state licensed Physician Assistant who specializes in both cosmetic and medical dermatology. Samantha received a Masters in Physician Assistant Studies from the University of Colorado, one of the top PA schools in the country. She earned her undergraduate degree from Colorado College in the field of Molecular and Cellular Biology while graduating with the school's top honors and a Division I soccer career.
Long before she started working at Dr. Rosenbach's office, Samantha, and Dr. Rosenbach took the unusual step of having regular meetings to discuss approaches to medical dermatology, lasers, and cosmetic treatments. Dr. Rosenbach and Samantha engaged in didactics for months prior to Samantha seeing a single patient. The goal of this uncommon approach was to ensure that patients of the practice would receive an identical approach to treatment.
Since Samantha began working at Dr. Rosenbach's practice in 2021, patients have been enthusiastic about her decision-making skills, as well as her genuine ability to communicate and understand their needs. Beyond an expertise in laser and cosmetic treatments, she is also interested in the treatment of chronic conditions, such as acne and eczema, which often have a wide array of treatment options. From diagnosis to healing, Samantha makes herself available to her patients in every step of the treatment process.
With a strong belief that an individual's opinion of their own skin can greatly influence their confidence and mental health, Samantha listens to her patients to figure out their goals and uses an open minded and highly logical approach to offer a plan to healthfully achieve those goals.
Samantha Zarling is a member of the American Academy of Physician Assistants and the California Academy of Physician Assistants.