Gail Romoff, RN
Registered Nurse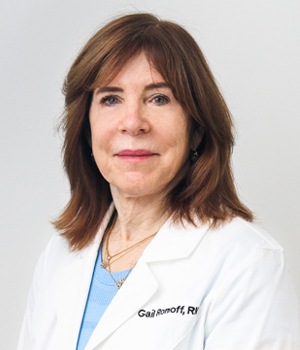 Gail Romoff is a laser skin care expert who has been working at Dr. Rosenbach's practice since 2003. A graduate of Santa Monica College's nursing program, Gail Romoff worked as an RN at the Santa Monica UCLA hospital for 4 years and moved on to LA County USC Medical Center for another 4 years before joining Dr. Rosenbach.
Gail Romoff was specifically brought into Dr. Rosenbach's practice to perform laser treatments. From skin rejuvenation to wrinkle reduction to laser hair removal, her goal is to get the best results in the safest way.
Our office takes the unique step of both nurse and doctor being integrally involved with each treatment. During the initial consultation, Dr. Rosenbach chooses exact laser settings specific to each patient, while Gail then uses these settings to perform treatments with safety and precision. Her experience is considerable, with over 10,000 treatments performed to date during a span of 20 years. This remarkable amount of experience allows Gail to develop a keen sense for laser effects on the skin during each treatment, providing an extra layer of safety.
Gail keeps a close relationship with her patients and is available to them for any treatments that might require recovery and downtime. She monitors post treatment progression alongside Dr. Rosenbach to ensure optimal laser settings for any follow up treatments. This caring approach towards her patients combined with her unparalleled laser skincare experience makes Gail Romoff one of the top laser RN's in the field.